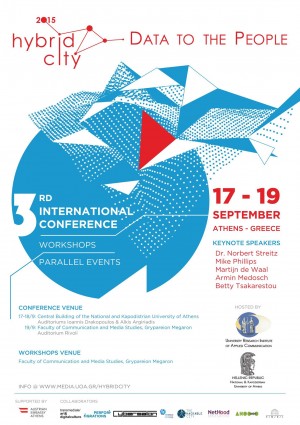 Athens about 3000 BC was the Smart City of all times – are we repeating their mistakes?  Write up from Cybersalon "Data-To-The-People" conference in Athens, Sep 2015 (Wendy Grossman) Read here.
Can women edit Wikipedia? On the topic of digital inclusion, here the first-hand edit combat report from our recent newbie editor:  "Women Can Edit" by Karolina Janicka from Middlesex Univeristy. Read here.
Are you a WhatsUp user? 200 mln users are risk of being tricked into executing malware on their devices in a new way, using vCard contact card with malicious code. Read and warn your folk.
A new hero on the block – Tim Wu, Internet digital rights activist and a lawyer is appointed for New York Attorney General office. His mission is to keep a watch platform tech giants and 'sharing' or 'gig' economy.  Tim will focus on issues involving technology, including protecting consumers and ensuring fair competition among companies that do business online. Net Neutrality may get a fairer hearing as Tim has practically invented the term. Good luck! Read here.
Ashley Madison users an easy pray for hackers – check out the passwords
A severe fine heading towards Lloyds bank as account holders at risk due to a mystery disappearance of a data storage box.  Check if you are affected as the bank was very slow on alerting users. Read here.
As a 14 year old aspiring engineer brought a home made clock to school he didn't expect to be arrested. Read more.
12th October, Monday – Radical Data – your Future has been Digitised
A duel of data scientist with cybersecurity experts, chaired by David Wood from London Futurists
10th November, Tuesday –Are machines already beyond our control?
Don't miss Bill Thompson (BBC Click) and Dr Satinder Gill(Cambridge) – chaired by Wendy Grossman (NetWars) (link to Eventsbrite)
Email on [email protected] for any news on digital rights, IoT or cybersecurity events that we should share! Alternative tweet us @Cybrsalon or leave us a comment on our Facebook page
Adult – £8
Student – £5
Middlesex and Westminster students tweet us @Cybrsalon for free entry