By Dr Magdalena Bober, Lecturer at the Department of Journalism, Information and Communications, Manchester Metropolitan University (@magdalenabober)
Paul Bason, Director of Digital Innovation at Manchester Metropolitan University, opened the evening and welcomed the audience to the inaugural Cybersalon Manchester event which was also the inaugural Digital Innovation event in The Shed. He said that as the University recognises digital change, The Shed will be used as a space for people to work with technology in an interdisciplinary way.
The Shed @ManMetUni @DigInnMMU no longer a concept. A space to meet, share, challenge, experiment and more. #cybrsalonMCR

— Jonathan Willson (@JP_Willson) June 25, 2014
Next up was Lewis Sykes, PhD researcher and Associate Lecturer at Manchester Metropolitan University, who is the coordinator of Cybersalon Manchester. He used to run Cybersalon in London between 2002 and 2007. 'We were pushing the boundaries of the digital revolution', he said. Now was a poignant time, post-Snowden, to start such activities again. Cybersalon Manchester is aiming to be a forum to talk about digital futures and what they should be. Tonight's launch event will be followed up with a regular series of events from September.
The event was chaired by Charlie Gere, Professor of Media Art and History at Lancaster University, who introduced each of the speakers.
The first speaker was Niki Gomez, a marketing strategy consultant and co-founder of Cybersalon London. She gave an overview of the history of Cybersalon which grew out of the Hypermedia Research Centre at the University of Westminster where she was a student. The first Cybersalon events in 1997 were small gatherings held on the top floor of pubs.
Hearing about the history of cybersalon it goes back to 1997 #cybrsalonMCR pic.twitter.com/dYJBK3gR6t — Digital Innovation (@DigInnMMU) June 25, 2014
Gomez and her student friends wanted to make Cybersalon bigger to create both a real and virtual space for people to discuss and reflect critically on the relationship between technology and culture. Events would consist of a panel of artists, technologists, academics and business people to make the discussion as cross-disciplinary as possible, usually followed by the display of cutting edge artwork and live DJ performances. As Cybersalon grew larger, the events moved to the Institute of Contemporary Arts (ICA). Early events included, for example, combining form and function in interface design, the 'Napsterisation' of music, the subversive nature of mobile technologies, wearable computing – topics that are still pertinent 13 years later.
from late 90s "net.art as business" & "the original is obsolete" to "mobile manifesto" cyberhistory at #cybrsalonmcr @CybrsalonMCR @cxhub

— Lara Salinas (@LaraCSalinas) June 25, 2014
Gomez showed a video from an early event with quotes from Cybersalon attendees. The Cybersalon team also created digital tools, such as 'Cybertalk' which would display SMS messages on a large screen (similar to a Twitter Wall). Here she showed an amusing video of Virtual Reality guru Jaron Lanier on stage with Sony's AIBO robot dog with comments from the audience scrolling down the screen.
When Lewis Sykes joined the Cybersalon team, there was a focus on music, with Cybersonica, an electronic music festival. Cybersalon took a break but reformed again to launch a new series of events in London in 2012, including a Christmas lecture by Evgeny Morozov and most recently the Bitcoin 2.0 event. With the Manchester launch, Cybersalon will now have regular events outside of London for the first time. Gomez finished her talk by summing up what the group had learned from Cybersalon: few people take a critical look at digital technologies; Cybersalon was unusual in bringing people from different professional backgrounds together and getting them talking; having face-to-face events rather than just online meetings; and history repeating itself, e.g. with Bitcoin facing the same issues as other digital technologies in the past.
Real meetings are the future #CybrsalonMCR — Creative_MMedia (@Creative_MMedia) June 25, 2014
The second speaker was Eva Pascoe, coordinator of Cybersalon London, who told the audience about her own journey through digital history. She co-founded Cyberia, the world's first internet café, in London in 1994 while studying for a PhD and dragged the internet out of universities, and out to the masses. She said it was 'very anoraky' in those days and many people 'didn't get' the internet. She worked with broadcaster Tony Wilson on a Granada TV series trying to explain the internet to people. But how do you explain the internet on television? It was not all that easy, she recalls, and therefore accompanied by many laughs. She later became involved in e-commerce and launched Topshop online. After the high street collapsed in 2012 she co-wrote the UK Networked High Street report with Niki Gomez, which is part of a project working with retailers on how to adapt to digital change. Recommendations include using real-time information to direct shoppers to free parking spaces or real-time bookings for beauty appointments.
She sees a huge potential for the use of Open Data, especially in Manchester, one of the EU Smart Cities, which she referred to as being one of the UK's 'needy' places but at the same time very much 'open for business'. She is also active in the area of information and data privacy and recognises individuals' need to keep their personal data private. For example in relation to shopping she mentioned the concept of personal data lockers which give customers control over their data and let them share it with retailers on their own terms.
People should own their data and decide what part of their identity spectrum to share, ans with whom. @EvaPascoe at #cybrsalonMCR

— serena pollastri (@sere_miru) June 25, 2014
She referred to a number of topics for forthcoming Cybersalon Manchester events, including sustainable 3D printing, digital valuation of art and learning to 'code to create' (here she mentioned the forthcoming Wikimania conference in London.
The final speaker of the evening was Richard Barbrook, Senior Lecturer of Politics at the University of Westminster and co-founder of Cybersalon. His talk focused on the argument he makes in his book 'Imaginary Futures: From Thinking Machines to the Global Village' (2007). He urged the audience to go back to the past to understand the present: precisely 50 years to the 1964 New York World's Fair which he visited as a young boy. A photo in his slides (and also on the cover of his book) showed him and his family with the symbol of the World's Fair, the Unisphere in Flushing Meadows, in the background.
Three predictions for the future were made at the New York World's Fair:
that within 25 years there would be holidays on the moon,
free, limitless energy supplied by General Electrics nuclear energy plants and
that IBM's computers would become 'thinking machines' powered by artificial intelligence.
It was all about big business and big government, said Barbrook, with the aim to sell the superiority of the US during the time of the Cold War. Barbrook urged the audience to remind themselves that the computer was a military technology (to decypher encryption of enemy communications, to guide an atomic rocket) that has escaped into the civil world. He claimed that commercial computers hide what computers were originally developed for.
The idea of the thinking machine just ideology and euphemism to cover the development of military technology? #cybrsalonmcr — Matt Barnard (@MattJB138) June 25, 2014
There were two fantasies at that time: firstly, that the computer would think and work for us and allow capitalists to replace workers and, secondly, that there would be 'peace through understanding' (the New York World's Fair motto). The question during the Cold War was also: what is the next stage of humanity, if not liberalism or Stalinism? What emerged was the politics of the 'Third Way', a welfare state but as part of a consumer society, said Barbrook.
Of importance here is the work of Marshall McLuhan, author of 'The Gutenberg Galaxy' (1962) and 'Understanding Media' (1964), who introduced the idea of 'the global village' and offered the first great prophecy of internet in the West.
Technology creates the new society? Or the new feudalism? Revisiting McLuhan at @DigInnMMU #cybrsalonMCR

— Jonathan Willson (@JP_Willson) June 25, 2014
Like printing lead to the advent of modernity, the internet was seen to have the potential to transform industrial society and bring about a new and better social order, the so called 'information society'. But the fear was that the internet, and with it this new stage of civilization, would first arrive in Russia. According to Barbrook, this was a greater fear during the Cold War than nuclear war. This is a very technologically deterministic view of the society, argued Barbrook, in that technology is seen as the driving force behind social change. This theory has survived in Silicon Valley to this day in the form of 'the Californian ideology', as Barbrook already argued in his 1995 critique of dotcom neo-liberalism by the same title.
He finished by saying that we need more critical ways of thinking about technology and need to know about history, so we can liberate us from the past and move to a better future.
If you dont know where you are coming from you dont know where you are going. Richard barbrook #CybrsalonMCR #cybersalonMCR — Creative_MMedia (@Creative_MMedia) June 25, 2014
"The future is now – we must invent new futures." #cybrsalonMCR

— Digital Innovation (@DigInnMMU) June 25, 2014
Cybersalon launch event in Manchester!
Our visions from the past are still dictating our future. Will they create the future that we want?
Since the days of the Cold War we have been sold a certain vision of the future from Science Fiction and military dreams – one that includes robot helpers and work-saving devices.And this future has not yet been realised. Is it one that we want or should we re-invent the future based on the present?
We invite you to meet three of Cybersalon's co-founders to discuss this and launch Cybersalon in Manchester!
We will talk about the early days of Cybersalon, a digital futures think-tank, as well as key issues of technology today.
The main focus will be the topic of Dr Barbrook's last book – Imaginary Futures– where he argues that had the past been different, our technological and political present would not be what it is today. In the 1950s business and ideological leaders put forth a carefully orchestrated vision of an imaginary future, where robots would do the washing up, go to the office and think for us. With America at the forefront of these promises, Barbrook shows how ideological forces joined to develop new information technologies during the Cold War era and how what they created historically has shaped the modern Internet, with intended political consequences. Barbrook's conclusions about the modern state of the Internet, puts forward a call for action in how the world's most important tool of revolutionary politics should be approached.
This event will be a critical look back, as well as forward, to whether we actually need to reinvent the future now, based on the uses of technology today. Many of these are completely different to what was envisaged in the past: they refer to a more social and altruistic use of technology, although Artificial Intelligence is definitely still on the table.
When: Wednesday, 25th June 2014, 6.30-9.00pm
Where: The Shed, Digital Innovation, John Dalton West, Manchester Metropolitan University, Chester Street, Manchester M1 5GD
Cost: Free – book via Eventbrite.
Speakers: Dr. Richard Barbrook, Eva Pascoe, Niki Gomez – chair Charlie Gere
Introduced and chaired by Charlie Gere, Professor of Media Theory and History Department, Lancaster Institute for the Contemporary Arts, the event also features contributions on Cybersalon's current focus and history by Internet entrepreneur and 'Digital Explorer' Eva Pascoe, co-founder of Cyberia, the world's first Internet Café in 1994 and a pioneer of online secure payment systems and urban informatics; and marketing and strategy consultant Niki Gomez –
About Cybersalon Manchester
Cybersalon Manchester is a new regular event series that extends the tried and tested Cybersalon format for a Manchester audience. This pre-Summer 'soft' launch brings the Cybersalon founders to the city to share the ethos, focus and history of this 'think tank on Digital Futures' – prior to the first regular monthly event in late September 2014. This is an ideal opportunity to find out what Cybersalon is all about, engage with the network, express your interest and get involved in adding a uniquely Mancunian perspective to Cybersalon's outlook and agenda.
Speakers:
Dr Richard Barbrook
http://www.imaginaryfutures.net/
Dr. Richard Barbrook is the author of Pluto Press's Spring 2007 release 'Imaginary Futures' – From Thinking Machines to the Global Village, where he traces the early days of the Internet, beginning from a pivotal point at the 1964 World's Fair, in what critics are saying is the most well-researched and original account of cybertechnology among contemporary works. Winner of the 2008 Marshall McLuhan Prize for Outstanding Book in the Field of Media Ecology.
"Imaginary Futures demonstrates how politics influenced the way this powerful tool is controlled today and calls upon all who are cyber-connected to use the Internet for taking revolutionary politics into their own hands, to create a more positive future. Anyone who uses the Internet should read this book because it is brilliantly researched, politically radical and funny."
Dr Barbrook has also written a number of highly influential essays on the clash between commerce and cooperation within the Internet, including 'The Hi-Tech Gift Economy', 'Cyber-communism', 'The Regulation of Liberty' and, with Andy Cameron, 'The Californian Ideology', published in 1995 it was a controversial critique of the neo-liberal politics of Wired magazine. He has recently published a book on the social groups shaping the information society, The Class of the New (2006). During the early 1980s, he was involved in pirate and community radio broadcasting and helped establish Spectrum Radio, a multi-lingual station in London, and published extensively on radio issues. Between 1995 and 2005, he coordinated the pioneering Hypermedia Research Centre at the University of Westminster and was course leader of its MA in Hypermedia Studies, the first of its kind on offer in Britain. Richard is a founder member of  Class Wargames, an avant-garde movement of artists, activists, and theoreticians, and his new book 'Class Wargames: ludic subversion against spectacular capitalism' is being published by Minor Compositions/Autonomedia. Educated at Cambridge, Essex and Kent Universities, Barbrook is currently a Senior Lecturer of Politics at the University of Westminster.
Eva Pascoe
http://www.evapascoe.com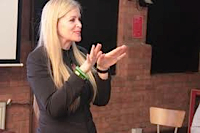 Eva came to the UK from Poland in 1986 to study psychology and the ergonomics of human computer interaction at London University. She co-founded the world's first Internet café, Cyberia Café, in 1994 and pioneered the early e-payment and e-commerce fashion solutions in the UK for Topshop (Arcadia PLC). She is currently head of Retail Futures for the Retail Practice – a multichannel retail and technology consultancy in the UK and Europe. She also co-founded the digital think tank Cybersalon and is a supporter of Wikimania UK 2014.
Niki Gomez
http://www.nikigomez.com
Niki Gomez is a Digital Marketing Strategy Consultant with fifteen years experience across Europe, Asia and the US and an MBA from MIT Sloan. The UK Sunday Times recognised her a 'Technology Star' in 2000.
She is an Associate Director for Delta, a consulting firm. In India she set up the first online 3D social network for a large conglomerate, Godrej. Niki has worked in the European Parliament and Commission in Brussels and set up the Rich Mix Cultural Centre, London in 2004. Niki is a co-founder of Cybersalon.
Charlie Gere
http://www.lancs.ac.uk/fass/faculty/profiles/charlie-gere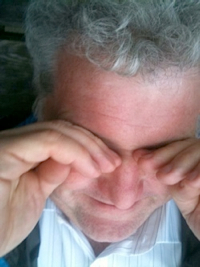 Charlie Gere is the author of Digital Culture (2002), Art, Time and Technology (2006), Non-relational Aesthetics, with Michael Corris (2009), and Community without Community in Digital Culture (2012) as well as co-editor of White Heat Cold Technology (2009), and Art Practice in a Digital Culture (2010), and many papers on questions of technology, media and art. In 2007 he co-curated Feedback, a major exhibition on art responsive to instructions, input, or its environment, in Gijon, Northern Spain, and was co-curator of FutureEverybody, the 2012 FutureEverything exhibition, in Manchester.