Niki Gomez goes to see The Royal Court's latest show where The Hacker Ethic is in the limelight.
The Internet made physical and we're all in it together.
I do urge you to go see Teh Internet is Serious Business at the Royal Court, for no other reason than as an experience junkie- I'd never experienced this before- the Internet imagined as a physical space – and how crazy that actually is. And because its form is a play, as the audience, we are all in the internet together. As we watch the cast come together in the different websites and chat rooms, the power of the Net becomes even stronger, as we watch and partake in a social network. But this time we can feel the emotions and see the expressions. Because we are really there.
The play written by Tim Price, author of The Radicalisation of Bradley Manning writes a very experimental play- the first half of which is pretty crazy and colourful:
Telling the story of Mustafa, a 15 yr old bored school boy who wants to go to university, and Jake, who are somewhat socially awkward and meet in hacker chat rooms. They play various pranks and get hacked off with Tom Cruise on Scientology and the attempts to shut down and control the Net (SOPA, PIPA). Along with a myriad of characters such as Kayla – the fabulous Manga girl- and other super coders with pseudonymous, they form the group Anonymous. They create a political video that goes viral and then splinter to form LulzSec and bring down the FBI, CIA, Fox News, Sony Pictures and other websites.
Without pseudonyms the hacks would not have happened, the real Mustafa explains to me in the bar afterwards – you cannot have a truly anonymous group for reasons of trust and forming a complementary skills group.
Both former members of Lulzsec were so young they couldn't be imprisoned but were banned from being online for 2 years. A virtual imprisonment.
There are no digital projections used, instead costumes, signs and other techniques stop it being a Matrix re-run.
Go see it.
Even if you don't like it, it's important. It's high energy and powerful. It reeks of the early days of the Net, and the issues of today. You'll leave energised and provoked.
We did.
Teh Internet is serious business is on till 25 Oct at The Royal Court Theatre, Sloane Sq London.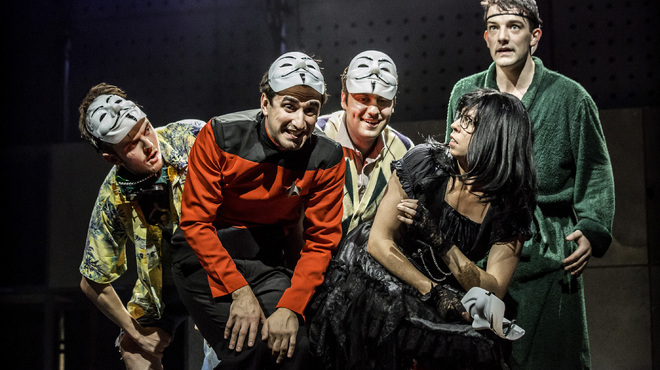 The hackers the play is based on speak in the video below.