This article appeared on Wired's website
15 MAY 13 by NIKI GOMEZ
This is a guest post by Niki Gomez, a Digital Strategist and co-founder of Cybersalon, a thinktank on net culture. She's a graduate of MIT and works between London and Mumbai. Her personal site is www.nikigomez.com and she can be contacted via @nikigomez
The meeting place is a street corner on a very windy London evening. There's a bald-headed man waiting on the corner too. My colleague nudges me and whispers: "Is that him?" The man approaches and asks if we are Amir's friends. I explain that we're here to meet Amir, as he's agreed to speak about Bitcoin at our Cybersalon event, the following week. The topic is net politics.
Amir Taaki, a hacker, has become a spokesperson for Bitcoin in London. I'd approached him after he'd spoken publicly at a some London Finance events. Amir however is nowhere to be seen. So I call him. No answer. On the second attempt he picks up and gives me directions to come to the building they're squatting in. A large locked gate greets us, but we manage to squeeze through, into the hacker hideout.
The building is a former Buddhist temple with a large graffiti mural on one wall. In it are about ten people — two of whom are chopping vegetables and cooking up what is to be a big communal dinner. One of the cooks introduces himself as a documentary filmmaker. He says he's working on a film entitled 'Finding Satoshi'. He explains that Satoshi Nakamoto is the hacker name of the unknown creator(s) of Bitcoin, who implemented the cryptocurrency and then moved on to "do other things". It's very important for the decentralised nature of Bitcoin that Satoshi has gone. It's not a tech start-up after all. It is the idea rather than a dominant personality or promise of IPO riches which give it motive force.
Another guy, a hacker, is bent over his laptop on a sofa. He has a black eye and a few serious scars. He tells me he's been beaten up by the police at their other squat. There's also a little boy playing in a large toy car which needs recharging. I help him plug it in and then turn around and see the guy we've come to meet.
Amir is very warm and hospitable — greeting me with a kiss and a hug — and then proceeding to find more chairs. He is passionate and animated as he starts to talk about the free software movement and hacker culture out of which Bitcoin's community and wide adoption has spread.
Amir explains how he'd organised the first Bitcoin conference last year — an event in London filled with hackers and anarchists — and how successful it had been. He says he'll be doing another one later this year, this time in Vienna. "I've got the best speakers. But I'm really really bad at marketing it", he explains. "It's called UnSystem. As in, Undo the System". "Will Satoshi be there?", I ask. "Yes he will, replies Amir, "But under another name".
"Bitcoin really is the free market. It's not about the abuse of power and monopolies"
Amir Taaki
I'm intrigued, like most people, about the idea of who Satoshi is, the Banksy of finance, as he's dubbed. I ask a few of the hackers I meet there tonight if they are Satoshi. None of them admit to it but one winks and continues, "I wouldn't tell you if I was!"
"Do you live in this squat?" I continue to quiz Amir. "I live in one nearby," he replies and goes onto explain that a group of activists fighting against the financial system live here including people from Occupy London. "We have a Bitcoin contingent inside working on projects and developing software", he adds.
I mention that I hadn't realised how much ideology there was behind Bitcoin's development, and undoubtedly behind Satoshi's original idea. My friend warns me that 'ideology' may be the wrong word to use for a group of anarchists, to which they might object. At the squat I start to realise these people really seem to be embodying their beliefs by living communally and choosing to use their skills to build arguably one of the most radical technologies out there. They are disrupting money and the very role of governments. "We're giving tools and financial freedom to everybody", explains Amir. "Bitcoin really is the free market", he continues, "It's not about the abuse of power and monopolies".
The squat is filling up. A group of young men are sitting in a circle avidly discussing something. They include the bald-headed man I'd met outside, who turns out to be a university lecturer. Others are bankers dressed in suits chatting to hooded hackers and the documentary filmmaker. I sit on my haunches by them, and listen. The bald-headed man is saying that through his research Bitcoin could be seen as a Ponzi scheme. He's realised that the early hoarders are those with the largest amount of Bitcoins and they're not selling them. Some people disagree. One likens the situation to Apple shares owned by the founders and early employees. They discuss whether this hoarding is a flaw in the workings of Bitcoin as a currency. As Bitcoin appreciates in value, does it become illiquid? In other words, is the prospect of becoming more valuable ruining Bitcoin's value as a currency that people want to spend? Is it more of a commodity than a currency?
The discussion is interrupted by the call that dinner is ready. Someone gives me a paper plate and I help myself — it's delicious and healthy. There are now about thirty people in the space and more continue to come in and out. The food is plentiful and there's no sign of money exchanging hands, even in digital form.
After dinner, I'd been told that there would be a presentation. "They mostly do educational talks here," someone explained. Tonight is no exception. Pablo, another Bitcoin hacker, will be talking about Ca La Fou, a "post-capitalist eco-industrial project" in Catalonia, Spain that he's helping to set up.
Amir helps him with the projector, using a vegetable rack as a stand. This sums up their lifestyle nicely: bread, potatoes and carrots support the white Lenovo laptop running Linux and the 4500 lumen projector.
Pablo has prepared slides and talks for about an hour about the project – he describes a cooperative where people live and work together – but where home ownership is also possible. When someone leaves, they sell their house to someone else. Most people make money outside. The main occupation inside is making and selling marmalade to the cooperative itself. There is a network of such cooperatives around Spain. Pablo is mature and has obviously engaged in a lot of thinking on its workings as well as been heavily involved in the refurbishment of the land and buildings. "It's a cooperative but in today's sense of the word, with technology as an intrinsic part," he explains.
I invite Pablo to join Amir to speak at our event the following week. He obliges. You can watch it below.
When I'd first got in touch with Amir it was to speak about how Bitcoin will disrupt politics and governments. But this visit has made me discover a lot more. Certainly Bitcoin, like hacker culture, is based on freedom. But these hackers' beliefs are bigger than that — they believe in really changing the system. This includes finding different ways of living (squatting and cooperatives) and creating a real culture of communal sharing. Will Bitcoin allow them to change things?
Of course I've met just one group of Bitcoiners, who are motivated by things other than solely making money. As investors equate Bitcoin to gold 2.0, I wonder what will happen to this ideology and to Bitcoin itself.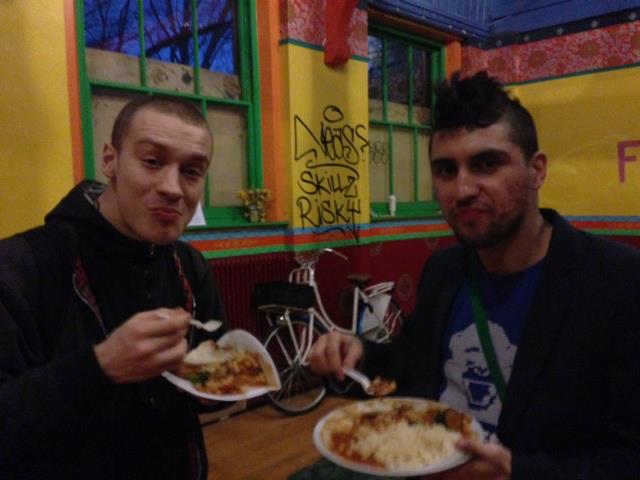 The UnSystem Bitcoin and social change conference will be held in Vienna from 1-3 November 2013. The next Cybersalon will be held on 29 May in London about meaningful digital interaction. You can follow it on Twitter on @cybrsalon